Driven Land Jets are one of the pioneers among the leading manufacturers in the areas of Mercedes-Benz V-Class and Vito luxury VIP vehicle interior design and vehicle finishing. Land Jets highly specialized engineers pursue with precision, the goal of making customer wishes reality, handcrafted to the highest quality standards.
Working together they combine personal customer preferences and ideas, with their vehicle development capabilities, to create unique examples of Mercedes-Benz V-Class and Vito. This allows them to produce exceptional vehicle designs that correspond to both the budget, and the individual requirements of clients. A large range of features and options, including elegant mahogany wood, finest leather and high-quality Alcantara, combined with engineering expertise, allow customers to own and use a highly personalised Driven Land Jet for private purposes, official use as a mobile office, and operational usage for VIP transport.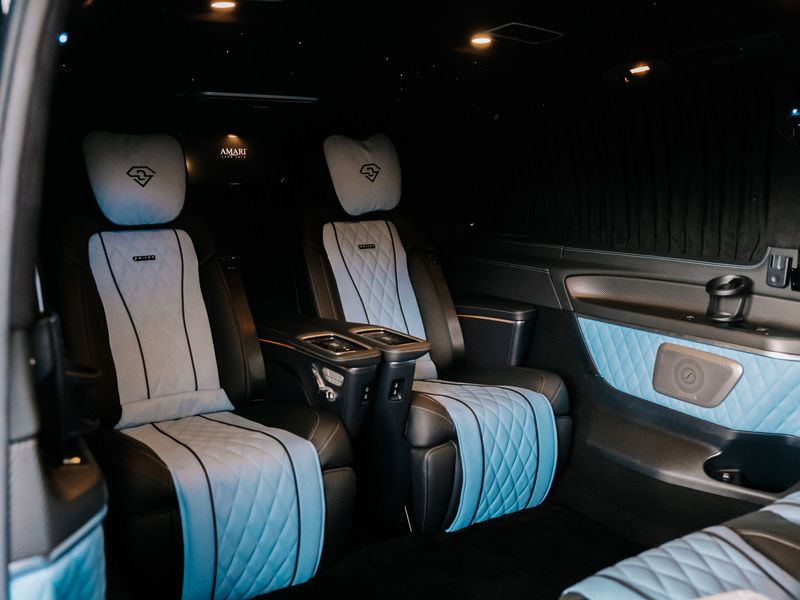 Driven For Business
The Mercedes-Benz Driven Land Jets product line offers a matching VIP Livery Design for your business concept—whether as company car and mobile office, or a chauffeur service to transport VIP guests and business partners. A range of seat positioning, electric tables, mini-bar and Nespresso coffee machine options, allow passengers to conduct professional business meetings on the move.
A 32" LED screen for qualitative video conferencing and presentations that connect seamlessly with your laptop, enables briefings or successful business deals to be conducted in-transit. A safe, with fingerprint recognition can store your valuables safely, while an intercom system facilitates communication with your driver, in full privacy.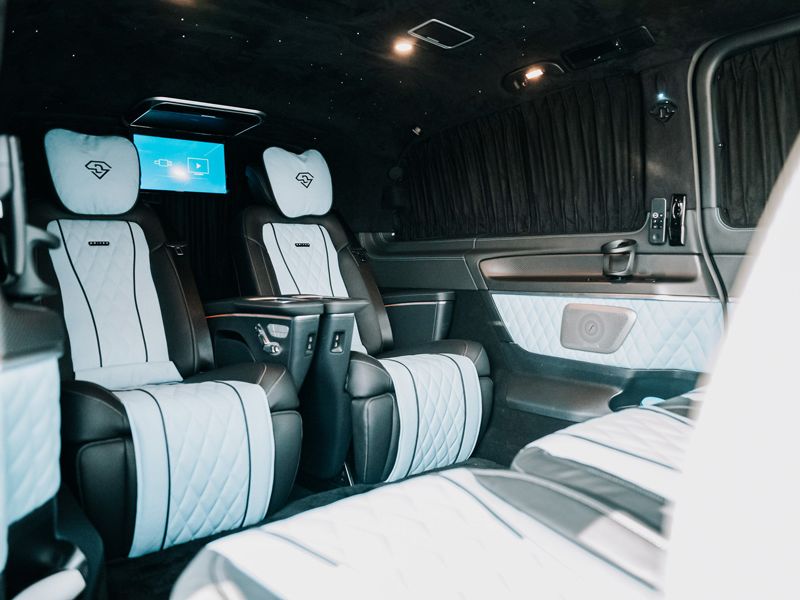 The Wow Factor
From a starry sky ceiling, hand-crafted leather upholstery, elegant mahogany wood trims, and ambient lighting, a Driven V-Class is an exceptional vehicle for both private and business travel. With superb features such as onboard entertainment and refreshment systems, you'll feel like you're travelling first-class in your own private jet.
A driver privacy partition, double vehicle insulation for external noise reduction, face-to-face seating, electrically opening tables, fridge, minibar, coffee machine, and centralised remote control, seamlessly mirror your laptop to the 32" Internet enabled TV for presentations and up-to-date news, making on-the-go professional meetings a pleasure.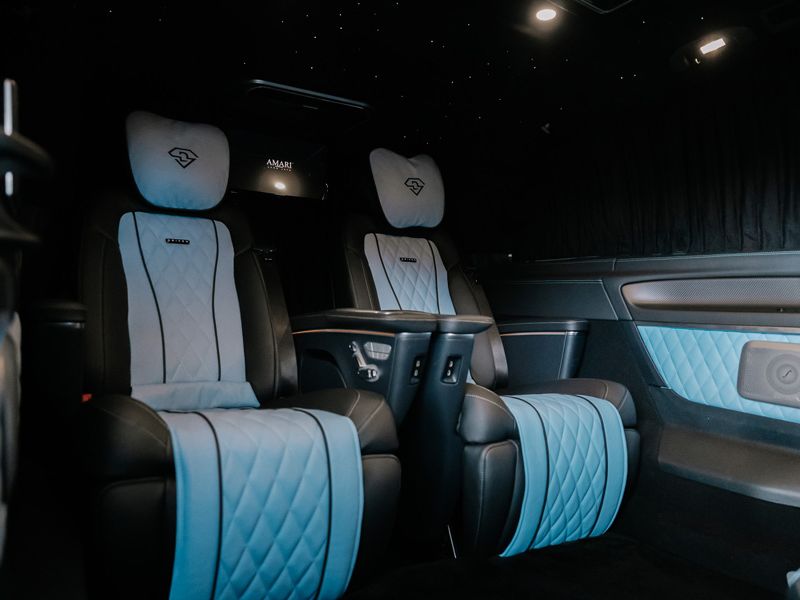 Exquisite Detailing
Beautiful detailing is integral to every part of a Driven Land Jet interior. Even the doors get extra attention and display a subtle sophistication. A combination of traditional craft skills and carefully considered design technology with a crisp modern edge is aimed at a modern, younger and more socially demanding clientele.
Fully electric G-Class seating in your choice of configuration, layout, colour, and finish, are adjustable from upright to fully reclined, with footrests, seat heating, cooling and massage functions, allowing for incomparable comfort while you travel. Hand-made to order, your V-Class interior is your very own custom-made work of art.
Model Range
Business Class
It's 'The Business'
The Business Class Land Jet really is the business! Onboard technology combined with practical configuration makes this model perfect for the busy entrepreneur seeking an office on wheels, executive hire companies with a more discerning clientele, stylish airport transfers, and parents with a growing family.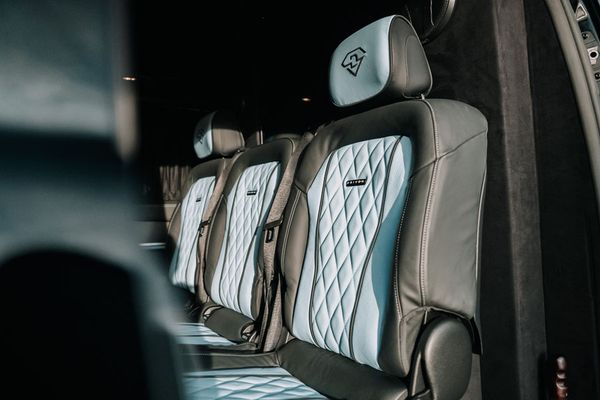 First Class
The only way to travel
The First Class Land Jet is packed with the latest high tech gadgetry and entertainment systems, so you can watch your favourite TV show and stream lightning fast video with 3D audio, making it perfect for the busy executive who demands more from life, and for keeping the whole family entertained while travelling in style.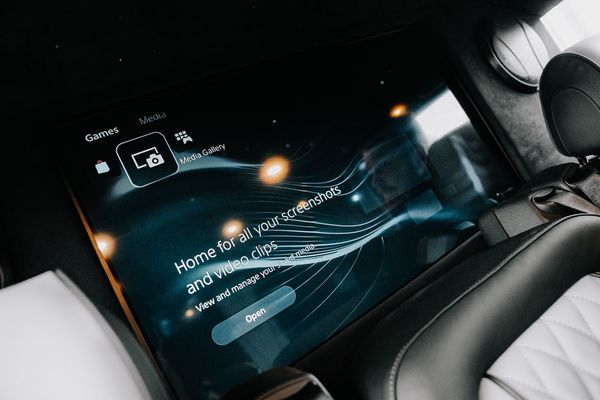 Club Class
Join the club!
The exclusive Club Class Land Jet is not only loaded with the latest high tech entertainment systems, including the latest next generation PlayStation games console connected to a 40" 8K OLED TV, it's a dream to own, drive and travel in. Experience the dream and join the Club Class set.
Land Jet Class
Ultimate Luxury
The 'top of the range' Driven Land Jet Class Conversion is completely bespoke. Please contact us directly to arrange a meeting with one of the design team to discuss your needs.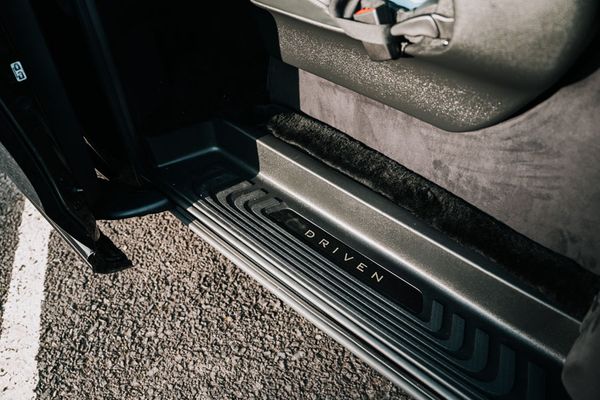 Want to know more about these exclusive vehicles?
View the range of premium models for Mercedes-Benz V-Class and Vito, transformed into luxury bespoke vehicles by getting in touch with us now.
Find out more